If I have a safeguarding concern how can I report this?
---
In the first instance please contact headteacher@dhsb.org
---
How do I order a Chromebook?
---
The Chromebooks for Learning portal is now open for taking orders again. If you missed the deadline for ordering a Chromebook the portal can now be accessed by using the following information. www.tech4learners.co.uk Username: Devonport2020 Password: S3cure02! Open: Now Closes: 10 November 2020 First direct debit:: 25 November 2020 Delivery: Mid-December 2020
---
How can I access IT support?
---
Students have their online help page which is on their own personal dashboard where they log in to Google in addition to all their shortcuts. The direct help link for parents to see is https://sites.google.com/dhsb.org/dhsb-tech-guide-students/accessing-lessons If you or they have a technical issue they can contact IT Support support@dhsb.org but please keep in mind it is an extremely busy time.

---
How do I contact the school?
---
For all communication please contact the school via ​headteacher@dhsb.org or by telephone 01752 208787.
---
What additional support is out there for my child and my family?
---
If you have any concerns or questions please don't hesitate to contact us, we hope that you all stay safe and take care during this challenging situation. The best way for us to manage this and to ensure you get the right support quickly is to email brief details to headteacher@dhsb.org We are here to listen and support in whatever way we can.
---
Where can I get more advice regarding the Coronavirus?
---
Latest government advice https://www.gov.uk/government/topical-events/coronavirus-covid-19-uk-government-response Department for Education Coronavirus helpline The Department for Education coronavirus helpline is available to answer questions about COVID-19 relating to education and children's social care Phone: 0800 046 8687 Email: ​DfE.coronavirushelpline@education.gov.uk 8am to 6pm – Monday to Friday 10am to 4pm – Saturday to Sunday
---
Where can I find information about mental health support and wellbeing
---
The following websites have information about mental health and wellbeing, as well as a range of magazine articles, message boards and forums. Young people using these sites have told us that sharing similar concerns and experiences with other young people can break some of the stigma and help them to feel less isolated.
Kooth –​ ​ www.kooth.com
ChildLine –​ ​ www.childline.org.uk
Mind –​ ​ www.mind.org.uk
Young Minds – ​​ www.youngminds.org.uk CAMHS website - https://www.camhs-resources.co.uk/
It can be really difficult to know the best way to support your child if they are struggling with their mental health. The following websites offer information as well as advice lines to get support yourself. Family Lives –​ ​www.familylives.co.uk Young Minds -​ ​ https://youngminds.org.uk/find-help/for-parents/parents-lounge
If you are in crisis these organisations offer online or telephone support

ChildLine – 0800 1111
Samaritans – 116 123 NSPCC - Home isn't always a safe place. Schools closing could put some children at greater risk of abuse and neglect and that's why we're supporting the NSPCC. If you're worried about a child or young person, or if you notice that something just doesn't seem right, the @NSPCC is here. You can talk to their helpline team who offer free support and guidance on 0808 800 5000 (8am-10pm Mon-Fri / 9am-6pm weekends) or you can email help@nspcc.org.uk

Young Minds Crisis Messenger – Text YM to 85258

The Mix Crisis Messenger – Text TheMix to 85258 The Urgent Mental Health Support Telephone line is open now 24 hours a day, 7 days a week on 01752 435122 for advice and support. The NHS has released a new mental health app designed for 10 to 18 year olds. Using a variety of content and tools, it allows young people to learn about mental health and emotional wellbeing, and develop skills they can use to build resilience and stay well. Details on how to access it can be found here: https://www.nhs.uk/apps-library/thinkninja/ Barnardo's 'See Hear Respond' service See Hear Respond is a service provided across England by Barnardo's and other national and local community-based organisations in response to the coronavirus (Covid-19) outbreak. The programme has been created to help children and young people in England who are experiencing harm and increased adversity during this period by providing support to those who are not being seen by social care or other key agencies. Working with its partners, Barnardo's aims to reduce the likelihood of harm and ensure other support and protective networks are in place using: online digital support, including advice and information, online counselling and a telephone helpline face to face interventions, such as support for groups at risk outside the home and one to one support reintegration into education, including assessments and the delivery of support pathways back to education See Hear Respond accept referrals from any source either through the Freephone number 0800 151 7015and via the online referral hub.
---
Will Get Ahead Club be open in September?
---
We are planning to to re-start our Get Ahead Club in September and we will update parents and carers at the start of term about how this will work.
---
What will school look like in September?
---
Please read this guidance which gives information about what we expect the daily routines at DHSB to look like in September. Link to guidance
---
How will the school community keep safe and well in September?
---
Please read the summary of our guidance at this link. Staying Safe Summary
---
Will Refuel be open?
---
There will be a food provision on site but this may be different to our previous offer. We are still finalising the details but this will involve where possible specific year groups using different areas for break 1 and break 2. These areas will be able to be cleaned before another year group uses the space later in the day.
---
Will my child have to wear a face covering in school?
---
As a school in the best interests of keeping our community safe we have made the following decisions: Face coverings will be compulsory for all staff and students to wear in indoor social areas and the corridors during lesson changeover at DHSB. We would ask that the face covering worn in school is a different covering to the one that may have been used on public transport on the way into school. During lesson time we will ask teachers and TAs to use a visor rather than a face covering if they choose to wear any protective equipment where social distancing cannot be maintained so that students are able to hear clearly and see the teachers face and facial expression. Students can choose to wear a face covering in a lesson if they wish however, this must not disrupt their ability to participate in the lesson. If a student struggles to access a face covering or where they are unable to use their face covering due to having forgotten it or it having become soiled or unsafe, the school will have a small contingency supply available to meet such needs via their tutor. Based on current evidence and the measures that schools are already putting in place, such as the system of controls and consistent bubbles, face coverings will not be necessary in the classroom even where social distancing is not possible.
---
What do I do if my child is exempt from wearing a face covering?
---
Some individuals are exempt from wearing face coverings. This applies to those who: Cannot put on, wear or remove a face covering because of a physical or mental illness or impairment or disability Speak to or provide assistance to someone who relies on lip reading, clear sound or facial expression to communicate If this applies to your child then please complete this form by 9.00am on Monday 7 September 2020. Link to Google Form
---
Will the PE changing rooms be open?
---
To reduce risk students will not be able to use the changing rooms to get changed for PE, therefore we request that on the day students have PE they travel to and from school in their PE kit and will remain wearing that during the school day, further guidance will be given in September before students return. In wet weather, students will carry out PE activities indoors to prevent the requirement for further changing following their PE lesson.
---
Will there be any extra-curricular clubs and activities?
---
We hope to offer a range of our normal extra-curricular provision over time, lunch time activities will be limited due to the staggering of the school timetable, after school extra-curricular clubs will be explored at the start of term reviewing the most up to date government guidance before any clubs may begin again. Our extra-curricular provision doesn't normally start at the beginning of term anyway. One exception will be Get Ahead club which we will be looking to re-start in September; we will update you at the start of term how this will work.
---
What equipment will my child need to bring to school?
---
Students will not be able to share their own equipment with other students as part of the control measures. Students will need to ensure that they have the following equipment for September: Each day students should check that they have all of the following with them: ▪ The completed homework that is due to be handed in. ▪ The text and exercise books and other materials that they need. ▪ Resources for practical lessons such as PE / games kit or food tech equipment. ▪ Their Chromebook if they have one and headphones. ▪ A pencil case containing pens (black ink / biro is needed for writing), pencils, ruler, eraser, pencil sharpener, glue, scissors, calculator and geometry equipment. ▪ A reading book. ▪ Please note: Correction fluid (e.g. Tippex), solvent-based glues, marker pens and aerosols (such as spray deodorant) are not permitted. All personal items must be clearly marked with the student's full name.
---
What catch-up support will be available for my child?
---
The government has announced that additional funding will come into schools during the next academic year. We don't have details of this yet but we have planned our approach to providing what the government term 'catch up support' for next academic year. There will be further communication regarding this later in the year once details of the funding is available, however, please find below an outline of what we will be working towards from September to help your child: We have been closely monitoring the progress that students have been making during this challenging time. Identifying each individual student's academic and wellbeing needs through the information we have been collecting and finally through the recent personal surveys. Staff will be using the first academic term to assess students regularly in lessons to provide a clearer picture of their individual needs. The majority of our students have shown great resilience; this is something we develop and nurture whilst attending DHSB. We believe that once students return to school and as we return to normal it won't take long for them to integrate and catch up on all aspects of their education. We have a well-planned and designed broad and balanced curriculum, our subject experts are carefully planning which parts of the curriculum we will focus on as students return. We have excellent teachers and support staff at the school who will provide everything your child needs to catch up through high quality teaching. For Year 12 and Year 13 students we have made a significant investment in more teaching hours, each A level subject will have one additional teaching hour each week. Specific personal interventions for all year groups based on their specific needs. All students and families will work through a personal wellbeing action pla
---
What support will be in place for my child's wellbeing?
---
Students may be experiencing a variety of emotions in response to the coronavirus (Covid-19) outbreak, such as anxiety, stress or low mood. It is important to contextualise these feelings as normal responses to an abnormal situation. Some may need support to re-adjust to school; others may have enjoyed being at home and be reluctant to return; a few may be showing signs of more severe anxiety or depression. Others will not be experiencing any challenges and will be keen and ready to return to school. DHSB has well established systems of support in place for our students, we will be providing specialist training for staff before students return in September to be ready for this. All of the school community, students, staff and families will also be part of creating a wellbeing action plan which we will work through, including personalised individual action plans.
---
How does my child get a locker?
---
Information about lockers will be given to students at the start of term.
---
Can I book a tour of the school?
---
W are sorry but we will not be able to arrange any parent tours, at least for the first few weeks of this term. Please look at our open evening webpage (link below) which has useful information, a message from Mr Roberts and a virtual tour. If you have any questions about admissions please contact Sarah Nicholson at sarah.nicholson@dhsb.org https://www.dhsb.org/open-days-2020
---
Where is the school visitor reception
---
We have moved the school reception to a temporary position in the conference room (pictured below), this is immediately on your right as you enter the main school gate.
This new school reception will be moving to a permanent place in the Guard House (pictured below) which is the building at the main school gate that is currently being converted and refurbished from an old electricity sub-station.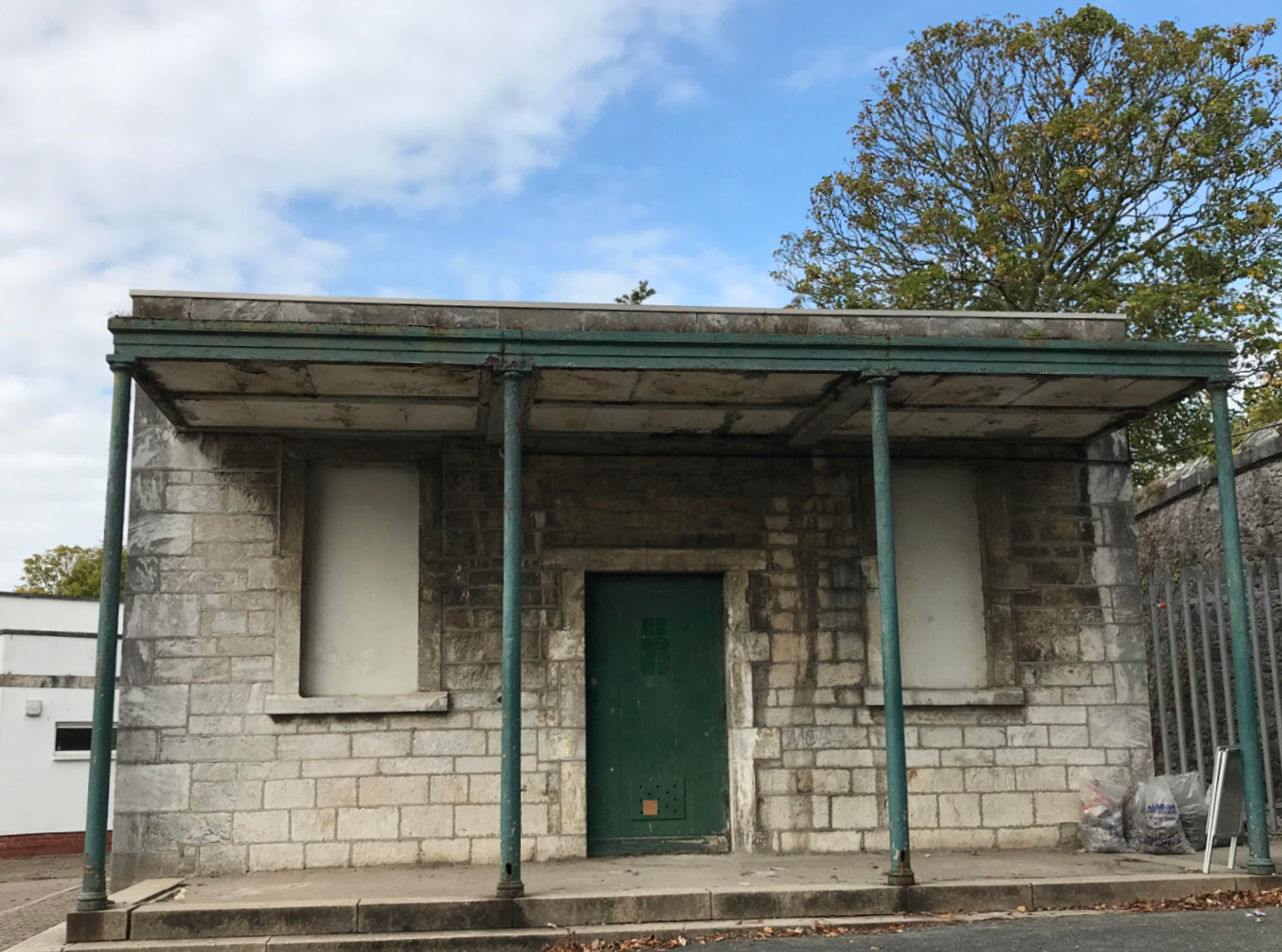 ---
Will there be any parent meetings this term?
---
We have installed electric powered gates on the main school entrance that will be locked during the school day. Visitors will gain access by video entry. Please note that any visit to the school site must be pre-arranged; where possible parental meetings will take place using either telephone or Google Meet. If you need to drop something off at the school that is urgent then there will be the facility to do this. Please use the intercom at the main gate. Parents evenings this year will be online. We have trialled the new system and it has worked very well. We will be using this for the first time for the Year 13 parents evening on Thursday 26 November. Dates for other year groups will be added to the school calendar and full instructions will be provided before each evening.
---
My child has forgotten his lunch. What should I do?
---
We have installed electric powered gates on the main school entrance that will be locked during the school day. Visitors will gain access to the visitor reception by video entry. Please use the intercom at the main gate.
---
My child is unwell and I'm not sure if he should come to school or stay at home
---
The information in our Covid-19 fact sheet should cover the majority of scenarios related to the decision making you may be faced with when deciding if your child should attend school or not. Link to fact sheet
---
My child has Covid-19 symptoms but I can't book a test
---
Plymouth City Council and Livewell SW have set up an additional testing facility for children in Plymouth schools. If you are unable to get a test for your child after trying this website:- https://self-referral.test-for-coronavirus.service.gov.uk/antigen/name then priority access to testing may be available for Plymouth school children by emailing: d-ccg.cornwalldevon.urgenttesting@nhs.net explaining that the test is for a child attending a Plymouth school. A priority is given to key worker parents, to help support the local key worker workforce and get staff back to work.
---
I see you have installed electric gates. How do I gain access to the school site?
---
Our new electric powered gates are now in operation at the main school entrance and will be locked during the school day. Visitors will gain access by video entry. Please note that any visit to the school site must be pre-arranged and where possible parental meetings will take place using either telephone or Google Meet. There are parking bays outside the school gate for visitors.
---
Notice of confirmed case of Covid-19 in the school community (Year 13)
---
We have been advised by Public Health England that there has been a confirmed case of COVID-19 within the Devonport High School for Boys community. We are continuing to monitor the situation and are working closely with Public Health England. Please be reassured that for most people, coronavirus (COVID-19) will be a mild illness. Families who are directly affected by this situation have already been contacted with advice about self-isolating, if appropriate. The school remains open and, providing your child remains well, they can continue to attend school as normal. We will keep this under review.
---
---